Sewickley Township's Stormwater Program
Sewickley Township recognizes that storm water is a very important natural resource that provides a source for our drinking water supplies, water for our crops, lawns and gardens, and a replenishment of our streams, ponds and lakes which in turn provide recreation opportunities and enhanced aesthetic value to our community. In order to protect our natural waterways, Sewickley Township has implemented a program to regulate the storm water that is intercepted by its municipal separate storm sewer system, or MS4. This program was initiated by a state-wide mandate for small- to medium-sized communities with MS4s, such as Sewickley Township, to be permitted under the Pennsylvania Department of Environmental Protection's (PADEP's) National Pollution Discharge Elimination System (NPDES) Phase II permit program. This webpage provides general information on storm water and on the Township's MS4 stormwater program.
MS4 is an acronym for a Municipal Separate Storm Sewer System. An MS4 is defined as a collection and conveyance system or a group of collection and conveyance systems owned, operated and maintained by a state, city, township, borough or other public entity. An MS4 collects and conveys only storm water runoff and conveys it into streams, rivers, lakes, wetlands or other natural or man-made receiving waters within the Commonwealth of Pennsylvania. The MS4 system may include such structures as storm pipes, catch basins, trench drains, roadside swales and cross drains, conveyance channels, detention ponds, infiltration basins, rain gardens or other structures designated for the collection, storage and conveyance of stormwater runoff.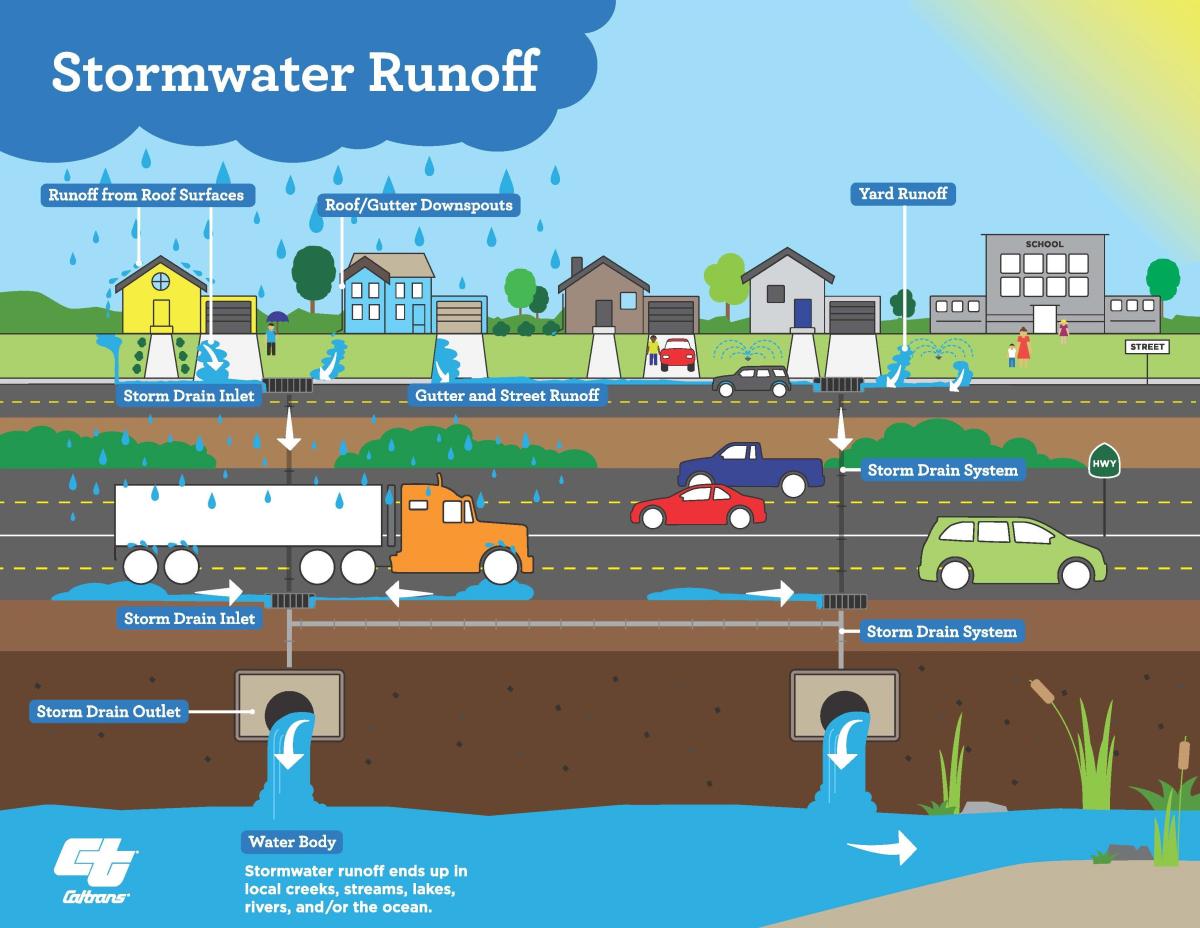 Stormwater runoff comes from rainwater/snowmelt that runs into larger bodies of water. Precipitation cannot infiltrate impervious surfaces like pavement, roofs, and sidewalks. Precipitation can infiltrate into soil and grass. We cannot make everything an impervious surface, so there is stormwater runoff that causes several problems.
Non-stormwater discharge is discharge into the Township's MS4 system or natural waterways that is not due directly to a rainfall or snowmelt runoff event. Non-stormwater discharge includes groundwater exfiltration, mine pool discharge, discharges from potable water sources such as fire hydrants or waterline blow-off valves, sanitary sewer discharges septic systems, or combined sanitary and storm overflows. The Township's stormwater management ordinance prohibits illicit discharges and connections into its MS4 but does list certain exemptions for non-stormwater discharges.
This is important because it is polluting our waters. When precipitation falls, the water falls on the impervious surface and runs to the nearest MS4. On its way, it picks up sediment, car oil, fertilizers, pesticides, and all other kinds of pollution. The water from MS4s, goes into bodies of water untreated, which has a negative impact on aquatic life.
Stormwater runoff can also lead to urban flooding. Storm drains can only take so much water at a time, which causes flooding. Increases the number of impervious surfaces increases the amount of stormwater and storm drains can only take so much water going down them at a time. The excess water then turns into flooding. This can cause erosion, deterioration of waterways, and can result in roadway, infrastructure, and bridges being damaged.
As part of its MS4 permit program, the Township has implemented several actions required under the NPDES storm water program, permittees must develop a stormwater management plan that provides the details of how the community will comply with the requirements of the permit. Permits are based on six minimum control measures, or MCMs, to ensure the proper handling and discharge of stormwater through its MS4 system. Such measures include: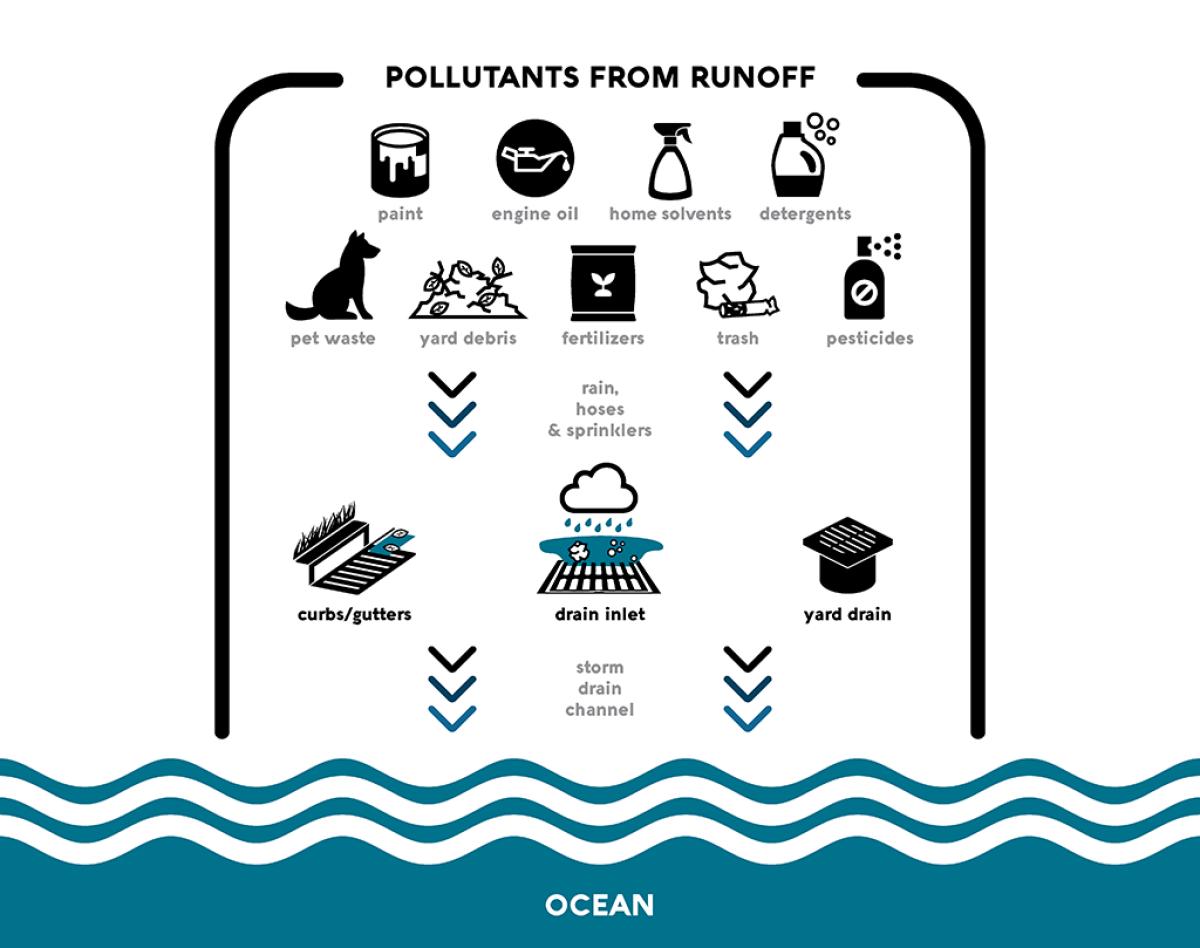 It takes everyone to provide continual improvement to the waterways within Sewickley Township. We would hope that every person realizes that what is dumped into the Township's MS4 system, ultimately ends up in the streams, rivers and lakes that we all care about. Here are several things each of us can do to help keep our waterways clean.
Sweep yard debris off the street.

Compost yard debris or put it in the trash rather than hosing it into the streets.

Keep grass height to at least three inches.

Longer grass retains more rainwater and requires less fertilizer.

Do not wash your car in the driveway.

Wash your car at a carwash that recycles the water or wash your car in the grass where it will soak up the water to keep it from becoming stormwater runoff.

Use pesticides according to the instructions.

Do not use more than directed and do not use right before a rainstorm to prevent extra chemicals running into our waterways.

Pick up after pets.

Pet waste contains bacteria and can be a source of stormwater pollution.

Grow a garden or more plants.

Increasing the number of surfaces that can be infiltrated reduces the amount of stormwater runoff.

Notify the Township's Code Enforcement Office at 724-446-7202 if you see any pollutants or non-stormwater discharge in the Township's MS4 system or natural waterways.
Learn more:
How to help:
Permits and Reports:
As required under its MS4 permit, the Township submits an MS4 Annual/Progress Report that reports actions that the Township has taken over the past year to reduce pollution in its MS4 and receiving waters. Click here to view the latest report.